For three generations, our family-owned operation has managed and maintained over 50,000 acres of prime Northern Appalachian timberland. Our modern manufacturing facility enables us to compete with any hardwood sawmill or wood component manufacturer in the world.
History
Early Beginnings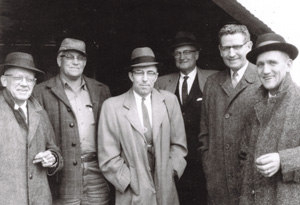 With our roots starting in 1938, we have grown into a world class supplier of hardwood lumber, wood components, and finished wood products including fine cabinetry and furniture, architectural mouldings and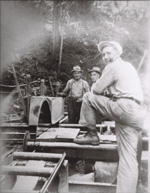 millwork, custom doors and entry systems, stair systems, wood flooring, and timber frame components. E.C. Grimm, Sr. (pictured left on the far right, and pictured right), the first generation and our grandfather, started it all. He was a simple, yet wise businessman, using primitive methods, by today's standards, to produce a product to satisfy a customer need. His honesty and integrity still shines today and will continue to the next generation, regardless of the company growth and direction.
1960's-1980's
Max Messenger (pictured right, on the far right), the second generation, and our father, continued the business with honesty and integrity, and grew the company in the 1980's. He brought his ability to manage risk and grew the company from a small producer of green lumber to a significantly sized company supplying distribution yards throughout the United States with kiln dried hardwood lumber. During his tenure, he continued to buy forestland and always managed this land with an eye towards future generations.
1980's to Present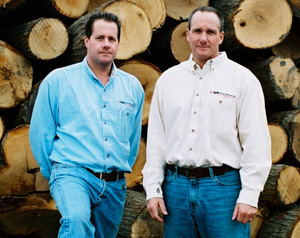 Today, brothers Reg and Jeff Messenger, the third generation, continue with the same long-term perspective towards future generations. Honesty and integrity are still the foundation for the company as it has continued to evolve under their management for the past twenty years. Major land purchases, sawmill optimization, entry in the wood component business, and increased finished product sales have been their contribution to the company. Through linear integration, they have taken a sawmill producing commodity products and transformed it into a world-class producer of wood components and finished wood products.
Facilities
Wood Products utilizes the most modern sawmill and component manufacturing equipment known to the hardwood industry. Its use of scanners and sophisticated production software, eliminates human error and guarantees maximum utilization of a tree. Every part of the tree is used for some lumber product or is converted to steam in order to kiln dry lumber or heat our facility. Our twenty-six acre facility and some of the equipment capability are pictured below. We do not disclose many specifics of our operation, as we consider many machine areas to be trade secrets. Much of what we have to offer was learned over many decades of trial and error. We have learned the old-fashioned way—success and failure. Seventy years filled with learning our trade from the ground floor up.
Staff
Officers
Forestry
Sales
Accounting
| | |
| --- | --- |
| | Sheila Reese |
| | |
| | Colleen Loewy |
| | |
Production



John Forman
Plant Manager/Finished Components &
Cabinetry

JForman@WoodProductsInc.com
(301) 616-1021




Jennings Freeland
Sawmill Production Manager
Environmental Policy
We do not just follow the guidelines set forth by FSC and SFI, but carry our commitment one step further. We are not managing our forests in order to satisfy government policies, meet the criteria of some industry organization, or to sell our customers "green" product at a higher price. We are committed to managing our forestland for future generations and the long-term viability of our company.
Affiliates
Messenger Limited Partnership, LLLP
Hardwood Interiors, Inc.
WoodArtisan Custom Cabinetry
Location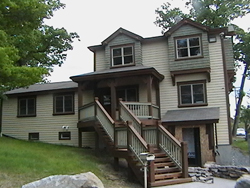 Address:
442 South 8th
Oakland, MD 21550